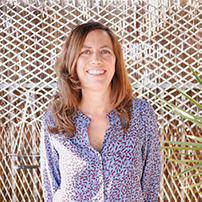 I completed my PhD at Universitat Autònoma de Barcelona in June 2012, and I am currently an Associate Professor at Universitat Rovira i Virgili (Reus. Spain).
My research interests span the fields of Public Economics, Political Economy and Microeconomics, with a specific focus on contest theory, secessionism and fiscal federalism.
You can download my CV here.
E-mail: sabine.flamand@urv.cat
Research
Publications
Leaders, Factions, and the Determinants of Electoral Success (joint with Benoît Crutzen), 2023, European Journal of Political Economy, forthcoming.
Attitudes Towards Single Parents' Children in Private and State-Dependent Private Schools: Experimental Evidence (joint with Luis Diaz-Serrano), 2023, Journal of the Spanish Economic Association (SERIEs), Vol. 14, pp. 223-242 [Link]
A model of a team contest, with an application to incentives under list proportional representation (joint with Benoît Crutzen and Nicolas Sahuguet), 2020, Journal of Public Economics, Vol. 182, 104109 [Link]
Partial Decentralization as a Way to Prevent Secessionist Conflict, 2019, European Journal of Political Economy, Vol. 59, pp. 159-178 [Link]
A Review on "Basic Income: A Radical Proposal for a Free Society and a Sane Economy", by Phillipe Van Paris and Yannick Vanderborght (joint with Caterina Calsamiglia), 2019, Journal of Economic Literature, Vol. 57, Issue 3, pp. 644-658 [Link]
Sequential Choice of Sharing Rules in Collective Contests (joint with Pau Balart, Oliver Gurtler and Orestis Troumpounis), 2018, Journal of Public Economic Theory, Vol. 20, Issue 5, pp. 703-724 [Link]
Strategic Choice of Sharing Rules in Collective Contests (joint with Pau Balart and Orestis Troumpounis), 2016, Social Choice and Welfare, Vol. 46, Issue 2, pp. 239-262 [Link]
Interregional Transfers, Group Loyalty and the Decentralization of Redistribution, Economics of Governance, Vol. 16, Issue 4, pp. 307-330 [Link]
Participation Quorums in Costly Meetings (joint with Orestis Troumpounis), 2014, Public Choice, Vol. 159, No. 1, pp. 53-62 [Link]
Book Chapters
Prize-sharing rules in collective rent seeking (joint with Orestis Troumpounis), 2015, in Companion to the Political Economy of Rent Seeking, Roger D. Congleton and Arye L. Hillman (Eds), Cheltenham, UK and Northampton, MA, USA: Edward Elgar Publishing [Link]
Research Papers
Stay, Split or Strike: Theory and Evidence on Secessionist vs Centrist Conflict (joint with Joan Esteban, Massimo Morelli and Dominic Rohner), R&R at the Journal of the European Economic Association
Heterogeneous Social Preferences in a Model of Voting on Redistribution [Link]
Voting on Redistribution under Quasi-Maximin Altruism [Link]